TAERA Monte-Carlo
Venezuelan pop-up restaurant on the Patio at Hôtel de Paris Monte-Carlo
Pop-up Venezuelan restaurant on the Patio at

Hôtel de Paris Monte-Carlo
Open daily from 12pm to 7pm
A sensory journey through Venezuela

created by Victoria Vallenilla
Terrace

All-day service

Tea room/Café

International cuisine

Accessible to PMR
TAERA Monte-Carlo offers an unusual journey to the heart of Venezuela, in which ancestral arts and crafts and a new take on traditional cuisine combine superbly for a spellbinding sensory experience. Located on the Patio at the Hôtel de Paris Monte-Carlo, this pop-up restaurant proposes the best of Venezuelan traditional cuisine.
A unique career
With her thirtieth birthday approaching, the highly talented Victoria Vallenilla manages the kitchen at COYA Monte-Carlo, and is responsible for bringing us a truly unique concept. TAERA Monte-Carlo offers her an opportunity to help us discover all the tastes and flavours of her youth. Originating from Isla Margarita, a paradise bathed by the turquoise waters of Latin America, the chef shares her feminine approach to cooking and hospitality. Experience the history and culture of a country blessed with an abundance of traditions and flavour!
Authentic and creative cooking
"Every mouthful is an ode to the unforgettable flavours of my childhood".
Take the time to enjoy a bold, colourful and mouth-watering experience combining originality with respect for Venezuelan traditions. Victoria's lively cuisine draws upon a history rich in delicious flavours, including a new, creative take on traditional dishes. The menu is a culinary voyage of discovery, including the Arepa, a flat cornmeal cake with fillings: burrata & caviar or pulled meat. A subtle and skilful balance between modernity and heritage to marvellously accompany the superb flavours!
An artistic, artisan-inspired setting
Just like the cooking, the decor is lively, warm and friendly. Designed by local craftsmen, the furnishings make extensive use of high quality materials. With its sculptural features, the wood harmoniously combines with the warm shades of the copper, while the solid stone and delicate linen fabrics add a touch of authenticity. The two mesmerising frescoes painted by the South American artist Viviana Grondona add an explosion of colour and energy, a testimony to the vitality of Venezuelan culture.
More than just a simple pop-up, TAERA is a concept designed to be lively, surprising and resolutely Instagrammable, with the result being an establishment in which art, human warmth and a stunning sensory experience combine marvellously.
Victoria Vallenilla was born in Caracas, Venezuela. She grew up on the Caribbean island of Margarita, where she had her first taste of culinary inspiration.
Her love of food came from her nanny, who she still believes to be the best cook she's ever known. Reproducing her recipes is the best tribute she could possibly pay to a woman she thought of as a grandmother. The chef draws her inspiration from her childhood memories, adapting them to modern techniques and flavours while staying true to traditional South American cuisine.
After shining at hospitality school and during cooking competitions, Victoria worked at the prestigious Le Vistamar at the Hôtel Hermitage Monte-Carlo for three years, first under chef Joël Garault then chef Benoit Witz. Victoria then headed to La Trattoria to hone her craft under Alain Ducasse. Her fondness for fresh horizons encouraged her to join the team at COYA Monte-Carlo in 2018. She has thrived in this establishment, producing fusion cuisine corresponding perfectly to her career route and journeys Over the years, the young chef has risen steadily through the ranks. Thanks to her determination, her passion and her talent, in 2021 she became the head chef in the COYA Monte-Carlo team! An amazing story and one which holds great promise for the future.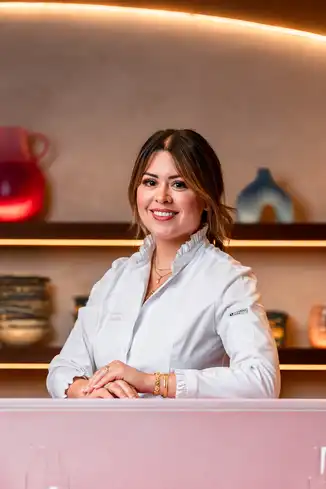 Stay up to date with news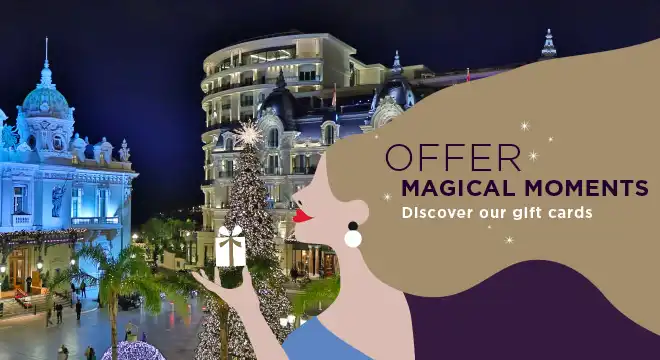 OFFER MAGICAL MOMENTS
TASTE, THRILL, CELEBRATE! Be sure to please with personalized gift cards, to use throughout Monte-Carlo Société des Bains de Mer Resort.
Discover our gift cards